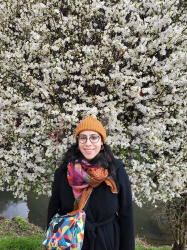 Latest posts by Aisha Villegas
(see all)
On January 27th and 28th, partners from ReTV gathered for their 6th General assembly. The meeting was hosted by the consortium partners the Netherlands Institute for Sound and Vision, in Hilversum, The Netherlands. 
During the two day meeting, partners gathered to present updates and revise the accomplished milestones of the project. Additionally, partners had the opportunity to discuss and suggest future steps for what would be the last year of the project.
Testing ReTV solutions
In addition to the two-day assembly, partners hosted the second ReTV Stakeholder meeting with professionals of local media institutions. 
The meeting took place on January 29th in Hilversum and was divided into two sessions. Ten professionals from local broadcasters and editorial teams came together to share experiences and ideas on current challenges of the field, and to exchange thoughts on the future of the media industry.  In both sessions, one of the discussion points was the challenges of reaching target audiences, as well as to how to improve editorial workflows to create more relevant content for users.  Partners also introduced the latest tools and updates, giving attendees the opportunity to experience first-hand ReTV solutions with their own content.
During the first session, participants from local broadcasters evaluated the predictive capabilities of the Topic Compass, as well as the video content adaptation and analysis with the Content Wizard. In the second session, participants from cultural heritage institutions evaluated the video adaptation and personalisation features with a demo of ReTV's Chatbot and, reviewed the event prediction features that aims to support content scheduling.  Both sessions enabled participants to share insights and suggestions on the tools, providing valuable feedback to the project partners.
Next Steps
After a fruitful meeting, stakeholders showed interest in experimenting and testing the tools in their everyday activities at work. In the upcoming months, stakeholders will utilise trial versions of ReTV tools and, provide useful insights for ReTV.
Would you like to be part of the next stakeholder meeting? Join the ReTV Stakeholder Forum and if you have any questions, don't hesitate to contact us at info(Replace this parenthesis with the @ sign)retv-project.eu.