DataTV 2021 – 2nd International Workshop on Data-drive Personalisation of Television
June 21, 2021 @ 08:00

-

17:00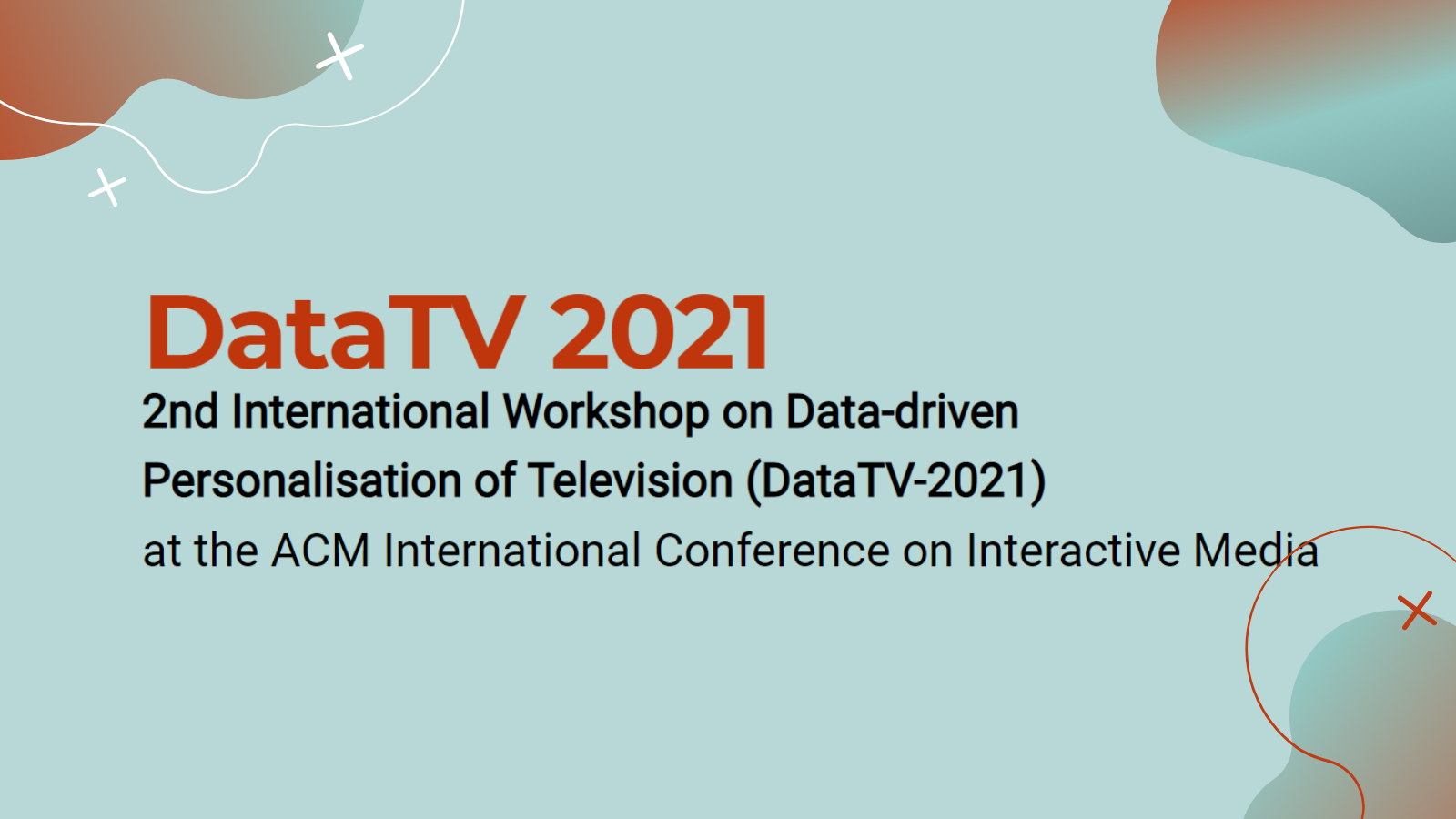 The second edition of the DataTV 2021 Workshop returns this year at the ACM International Conference on Interactive Media Experiences (IMX 2021)
The aim of the DataTV-2021 is to address the increasing importance and relevance of richly granular and semantically expressive data about TV and immersive audiovisual content in the media value chain. Such data needs software, specifications, standards and best practices for extraction, modelling and management before it can be meaningfully reused in new, innovative services for TV or other immersive audiovisual settings (360° video in AR orMR) such as:
Content Understanding and Summarization (e.g. to provide highlights of a program according to a specific user, theme or channel)
Recommendation and Scheduling across Publication Channels (Broadcast, Streaming,Social Networks)
In Stream Personalisation of Content (both spatial and temporal modification of text,audio, video)
Personalised and adaptive presentation for various media experiences, including user-user or network-user delivery using interworking media presentation formats
The provisional date of the Workshop is June 21
Program
The Workshop has two confirmed keynote speakers
> Keynote talk 1: Introducing AI in media production processes: from theory to practice
Speaker: Dr. Alberto Messina, Head of Research and Innovation Unit in TV Production, RAI
Dr. Messina is Research and Development Coordinator, and Head of Rai's R&I unit in TV Production. He is the co-author of 80+ scientific publications, and he leads research on content production and management systems based on AI technologies, as well as on full-IP and cloud-based systems for production. He collaborates with national and international research institutes and has worked on many European funded projects. A contract professor at the Polytechnic of Turin in the past, he actively participates in international standardization bodies, EBU and MPEG.
> Keynote talk 2: AI in Media Production – What works now, and which challenges still need solving
Speaker: Dieter Van Rijsselbergen, Co-founder and CTO, Limecraft
Dieter Van Rijsselbergen is co-founder and CTO at Limecraft. After obtaining his Master's degree in Computer Science, Dieter joined IMEC/MMlab. As a PhD researcher, he specialised in metadata-based automation of audiovisual production workflows. More specifically, he had a first hand in a range of ground-breaking innovations that eventually lead to the incorporation of Limecraft. Now, as Limecraft's CTO, he deals with architectural decisions, research & development, and technology choices to drive Limecraft's platform product and stand-alone applications. Together with their clients, Dieter designs and builds practical solutions and workflows using Limecraft technology to help them produce better content more efficiently.
Special Issue
A Special Issue on "Data-driven Personalisation of Television Content" is planned to be published in the Multimedia Systems Journal (Springer).
Extended versions of high-quality DataTV 2021 papers, introducing substantially new content, may be submitted to the Special Issue.
An open Call for Papers for the Special Issue has been published and can be accessed at https://www.springer.com/journal/530/updates/18878454. Guidelines for potential authors, and the link to the journal's submission system, can also be accessed via the above link.
Find the full information on the website > http://datatv2021.iti.gr/