DataTV 2020: 2nd International Workshop on Data-driven Personalisation of Television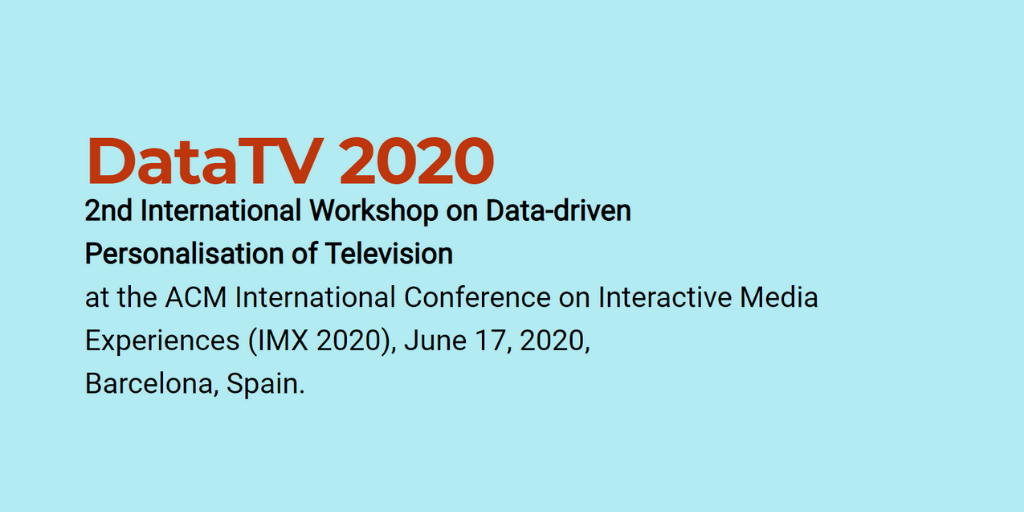 We are pleased to inform that ReTV consortium partners, Vasileios Mezaris (CERTH) and Lyndon Nixon (MODUL Technology),  will participate in the upcoming DataTV 2020: 2nd International Workshop on Data-driven Personalisation of Television as part of the Programme Committee. The workshop will take place at the upcoming International Conference on Interactive Media Experiences (IMX 2020)  in Barcelona, Spain.
About the DataTV 2020 workshop
The aim of the workshop will be to extend the remit of the previous workshop to address the increasing importance and relevance of richly granular and semantically expressive data about TV and immersive audiovisual content in the media value chain. Such data needs extraction, modelling and management before it can be meaningfully reused in new, innovative services for TV or other immersive audiovisual settings (360° video in AR or MR) such as:
Content Summarization
Recommendation and Scheduling across Publication Channels
In-Stream Personalisation of Content
Personalised and adaptive presentation for various media experiences, including user-user or network-user delivery using interworking media presentation formats
The call for papers for the workshop is currently open for both full and short papers, the deadline is 8th April 2020.
Learn more about the workshop and the paper submission here.
About the event
TVX / IMX is the leading international conference for presentation and discussion of research into interactive media experiences. The conference brings together international researchers and practitioners from a wide range of disciplines, ranging from human-computer interaction, multimedia engineering and design to media studies, media psychology and sociology.
To see the full programme, visit the IMX website